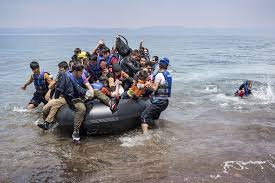 The Ciphers of Civilizations
---

The minarets of the mosque in Cologne will soon surpass the famous cathedral towers. Hordes of aliens are landing on the continent shores. Hierarchs of the Church and left-wing liberals call in accordance for opening the gates of Europe! But the newcomers, sooner or later "will fill the sky the powerful guard, turning themselves into a murderous shooting stars" (Qur'an, the prophetic verses of the sura LXXII). To understand the inevitability of such a change, you have to reject the hypocrisy and deception of the Latin civilization distorting. In practice its current form has almost nothing common with the classic standards: the democracy of Athens, with the concept of truth inspiring ancient Greek philosophy, with Phidias canons of beauty, the Olympic idea of perfection in life, in literature and drama, with the implementation of Roman law and the Christianity force – love that overcomes evil.
Meanwhile compact Islamic communities consist of people who deeply believe and live in strict discipline. They must not tolerate anything against their religion. Information about encoded in the Muslim psyche, with particular confluence of circumstances is destructive. Judaic calculation and Christians charity impulse are similarly rooted in faith, but they are not so spontaneous. Recent immigrants, Muslims hungry for peace and prosperity will expand the area of the Islam power through natural reproduction. When they encounter social deformations and caricatures of their holiness may turn into a "murderous star" suicide attacks.
Every religion craves material support, and Christianity is particularly vulnerable. There is no Latin civilization without Christianity and vice-versa. They know his enemies, and therefore the removal of Christ's teachings gained momentum after the separation of religion and state. There has been a re-evangelization of Christians conducted in the spirit of strengthening. Tireless pastoral care of father Thaddeus Rydzyk, led to a victory (in last Polish parliamentary elections) a political party that declares coming back to the tradition in which Catholicism was one of state power pillars. Some citizens of the country reacted, as if they had nothing common with Poland beyond their names and addresses. Such people have long been softened faith and morals. They had propagated  relativism and the pursuit of profit nascent widespread corruption even from thousands years. Those activities have resulted during the Great French Revolution, but the stimulating code could have been brought in the middle Ages together with the first refugees from the East.
Register now to read on.